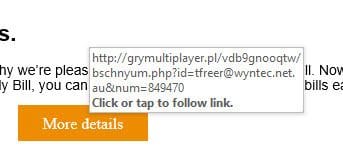 They are everywhere at the moment, phishing emails looking to capture your personal information or encrypt your computer and data. The thing is they emails look so good, it is easy to think they are real. Examples in the past have been from Australia Post, Australian Federal Police and even Google. The most recent one is from AGL a very well known Electricity supplier in Australia, for which thousands of people have real accounts with. This is one of the reasons this scam has been so effective.
I received one today, so i wanted to quickly break the email down for you and point out some key areas to look at when checking for a possible scam Email. As always, if you are in anyway unsure just don'€™t open the email or click any links and delete it.
Below is the email i received today, it did go straight into my junk mail through Office 365 however this is not always going to happen.

#1 The Email Address
The First thing to look at is the sender address. Just by looking at this you can see that it is not coming from a known email address, specifically nothing to do with AGL. That is always a give away, however no always accurate as some of the emails are spoofed and can look like they are from a legitimate source.
#2 The Link
The second key thing to look at is where the links take you. If you hover over the links in the email (don'€™t click them) you will see the address pop up. This is where the link is going to take you and in this example it is clearly not an AGL Site. You will also note it is linked to your email address so they know you have clicked and will be able to further target you.

How can you stop them?
The challenge is stopping these emails coming through, and there is no sure fire way to stop them. Implementing a layered approach to security is a way to minimize them. The approach we recommend to clients looks at the different methods and ways viruses and scams are using Internet services and blocking them. Unfortunately this does mean legitimate sites may be blocked initially (but can be opened without issue) however this minor inconvenience is nothing compared to the issues that occur if a virus or infection does get into the network.
Email Gateway Scanning: ensure that you have a SPAM and Anti-virus solution protecting your email. Office 365 and Google Apps go someway to protecting, but they are not dedicated security solutions and still miss a lot of newer events. A dedicated solution is recommended for all mail systems
Content Blocking at the Internet Gateway: checking for Viruses and Malware in Internet traffic is critical. Combine this with blocking known and unknown websites and your protection levels increase dramatically. The main issue is with the links that are generated by viruses and spams – they are typically uncategorized and unknown. Being able to block these type of connections is a major part of protecting your data. Blocking all unnecessary traffic and connections will also go a long way in stopping threats.
Virus Software and Updates: Virus software alone will not protect you, neither will updates. But both play a very important role but need to be combined with other strategies. We are seeing virus variants that are not detected by virus software so stopping these entering the network is key.
Please feel free to contact me if you have any questions or if you want someone to give you systems the once over€" [email protected] / 1300 655 523.
[/et_pb_text][et_pb_button admin_label="Button" button_url="https://wyntec.leadpages.co/leadbox/142b07173f72a2%3A14c0ad2d6b46dc/5750085036015616/" url_new_window="off" button_text="Click here to subscribe to our newsletter" button_alignment="left" background_layout="light" custom_button="off" button_letter_spacing="0″ button_use_icon="default" button_icon_placement="right" button_on_hover="on" button_letter_spacing_hover="0″] [/et_pb_button][/et_pb_column][/et_pb_row][/et_pb_section]